IT ALL STARTS WITH BEING ONLINE - BUILD YOUR OWN WEBSITE
WITH OUR EASY DRAG & DROP WEBSITE BUILDER
LITE WEB BUILDER - R90 p/m
500 Meg Disk Space
10 Gig Bandwidth
10 Email Accounts
5 Web Pages
Limited Plugins
66 Templates
Pay yearly and get 2 Months FREE
PRO WEB BUILDER - R170 p/m
1 GIG Disk Space
UNLIMITED Bandwidth
30 Email Accounts
UNLIMITED Web Pages
UNLIMITED Plugins
UNLIMITED Web Templates
Pay yearly and get 2 Months FREE
WEB BUILDER PACKAGES INCLUDE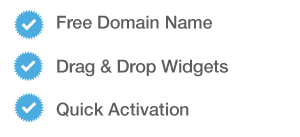 EASY DRAG AND DROP WEBSITE BUILDER
* No Ads * Over 200 Templates * Add SSL (Secure Website - HTTPS) * Professional - On your own Domain Name
WHY YOU SHOULD CHOOSE OUR WEB BUILDER PACKAGES
Mobile Friendly
90% of Visitors will acces your website via a Mobile Phone! We got you covered... All Designs are Mobile Friendly & Responsive to any Mobile Device
Easy Plugins
Our Easy Plugins will allow you to add amazing Plug-ins as simple as Drag & Drop. Forget about expensive coding. Drop a Picture, a YouTube Video or an Online Store, to name a few.
Social Media
The steps people follow before they Buy is based upon : Know, Like, Trust then Buy. Make sure your Online Presence incoprorates a Social Media Presence. Drag & Drop virtualy any Social Media Plugin, into your Website
Over 230 Templates
Old poky webdesign is a thing we used to do in 1980. Our Templates are Modern and feature rich to give your Web site the ultimate Look & Feel.
Online Store
Our Pro Version will have you up and running in no time with a Full E-Commerce Soliution and Online Payment integration. It supports having your clients pay via Paypal & other Payment Gateways.
Images & Video
Adding images and video is painless and you won't ever need any coding knowledge. Simple Drag & Drop Plugins enables you to quickly add any photos or videos to you web content.
Preview before publishing
Make sure you are happy with your web page or the changes you made, before it goes live. OUr Website builder lets you preview on all devices.
SEO & Stats
SEO & Stats are easy to integrate into our Web Builder. Simply Drag & Drop the Plugin into the web page and add your Google Analytics Code. Get better visibility on Search Engines.
SSL & Security
Protect your Visitor and show them that you care about their Online security by adding an additional layer of security to your web site. Webistes with SSL is also favored by most search engines nowadays.
FREQUENTLY ASKED QUESTIONS
Which Plugins will I get on the Lite Version of the Builder Package?
The Lite version has 11 Drag & Drop Plugins: Text - Picture - Gallery - You Tube - Google Maps - Button - Form - Menu - Languages - Shape - Line. Should you require access to more features to enhance your website's functionality, you should look into ordering the Pro Web Builder
Do I need to pay additional for Web Hosting?
Can buy the Lite Version and upgrade to Pro later?
Once my Website is published, is it possible to still tweak and make changes?
Once I have built my website, can I cancel my Subscription and keep my website?
How many websites can I build on each Site Builder package?
STANDARD T'S & C'S
Web Builder websites are specific to the SynnCom ISP infrastructure and cannot be moved or transferred.
The Web Builder solution is backed up in its entirety and cannot restore an individual page. UNDO functionality is always available in Site Builder to ensure that mistakes can be undone.
Web Builder may only be used for a single domain name at a time.
Please ensure that you have adequate backups of any existing websites, as using Web Builder to create a website of the same domain name and publishing it, will overwrite the previous website.
Various Web Builder plugins are offered by third parties and may require prior registration with said third party before activation. Please ensure that your personal content and images are adequately backed up, prior to any cancellation request.
Should you cancel your Web Builder package, your Web Builder website will no longer be displayed on the Internet, and any plugins will no longer be available to you.
WHAT CLIENTS SAY ABOUT US ON FACEBOOK